Getting in-store media right is a challenge. I wrote recently about the importance of correct in-store media placement – ensuring that the in-store media delivers its message in the most effective way. In this post, I'd like to focus on in-store messaging – the challenge of deciding exactly what message should be delivered to the shopper in the store. And I'd like to do this by way of a fabulous example I found recently. Pampers really nails in-store messaging in this case, and I'd like to explain why.
There are many pitfalls to avoid when creating in-store messaging, and arguably the biggest one is trying to say too much. Brand managers, unfortunately, are in love with their brands, and sometimes feel that the whole world feels the same way too. They feel that shoppers have the time and inclination to pause in their busy, stressful days and listen to the brand regurgitate messages and stories, along with a key visual or two. Some believe that maybe they should show their latest ad, too – it won awards, after all? I'm afraid not! While there may be one or two shoppers who might be prepared to while away the day with your brand, the vast majority of shoppers will not.
The majority of shoppers have no time to engage in complex in-store messaging and media
Eye-tracking studies show that a shopper's eyes typically alight on a message for less than a second, before darting off to flicker at the next thing that catches their eye. Often that briefest second of sight is subconscious – the shopper isn't even aware that they've looked at (and rejected) something. There is simply so much to look at in a store, that the brain can't (or won't) process it all systematically. And here's the rub – anything too complicated is highly likely to get ignored, unless it's really engaging, and really relevant to the shopper.
Don't get me wrong, there are occasions (certain shoppers, certain missions, certain categories) where the shopping process is slower and more deliberate. But unless you are sure that shoppers are prepared to stop and ingest swathes of brand story, beware!
The majority of shoppers don't need to hear everything about the brand
There is also another simple truth. The majority of shoppers will know something about the brand, and the category. How many of your target shoppers have never heard of your brand? How many of them know absolutely nothing about you? Chances are that many of them are aware of the product, and may know something about it. So the question is – what do they not know, and what do we need to tell them?
Effective in-store messaging focuses on what is it that the shopper needs to know at this stage of the purchase journey: what is most likely to convert them into a buyer?
So, in most cases, we don't have much time to communicate to shoppers. Luckily, we typically don't need to communicate everything about our brand either. So what should we say? If we have limited time, our in-store messaging should focus on the message that is most likely to convert the shopper, and encourage them to do what we want them to do (buy our brand, buy more of our brand, etc.)
Which brings me onto this fabulous example from Pampers. This is from a store in Karachi, Pakistan, and Forget that the sign is huge, or that the entire category is dressed in Pampers branding. Focus on the message. In this execution, it is clear to see who Pampers are targeting, and what they are trying to do.
Their biggest competitor is significantly cheaper. So Pampers is trying to get shoppers of the competitor brand to buy Pampers. They know that price is the biggest barrier, but rather than resorting to the rather obvious price reduction strategy, they come up with something else.
This single piece of communication delivers a powerful message. Pampers last twice as long as other diapers (so you can afford to pay up to twice as much). And, they sneak in an extra consumer benefit too – you won't have to change the diaper as often (who likes changing diapers!)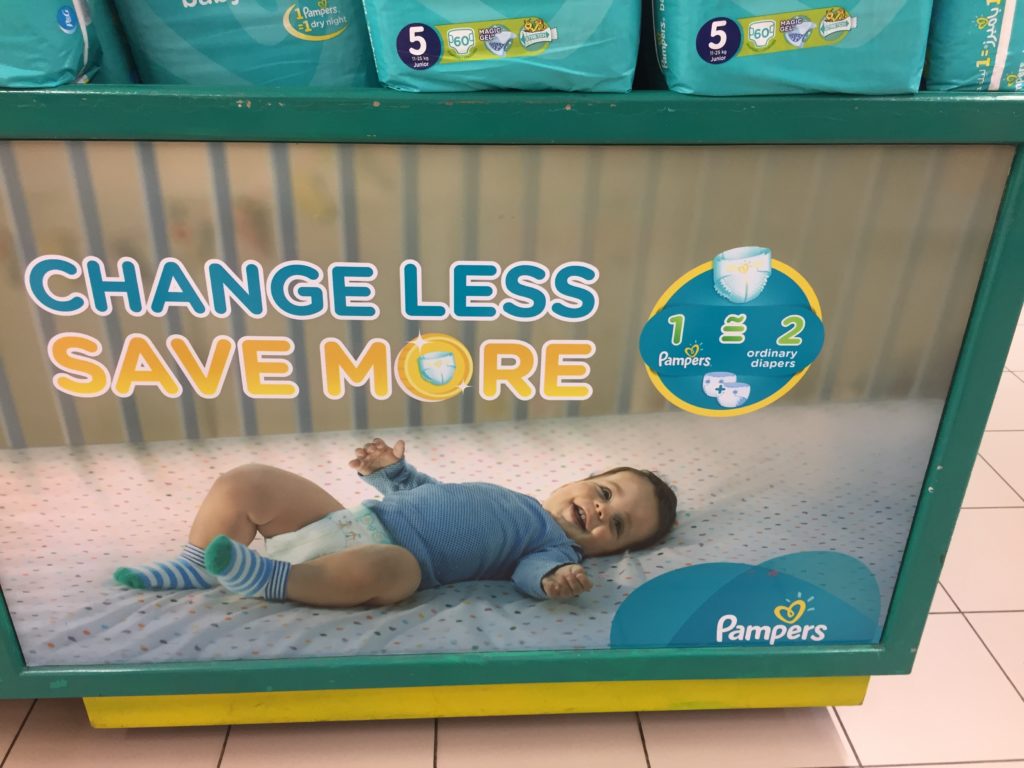 Golden rule of in-store messaging
Getting in-store messaging right is tricky, but there are a few 'golden rules' which can be applied to ensure your in-store messaging is more likely to be on target and effective:
Know who is your target shopper – This execution works because P&G understand who they are targeting (shoppers currently buying the cheaper competitor). This isn't about attracting shoppers to the category. Nor is it about attracting shoppers from other premium brands (though it might well do so).
Know what you want those target shoppers to do – In this case P&G are very clear: they want to switch a shopper to try their product.
Know why they don't currently do that – In this case, it appears that the biggest barrier to trying Pampers is price, and therefore that is the biggest barrier to overcome.
Create a single-minded message that focuses on benefits to these shoppers: P&G could have talked about baby comfort, about leakiness, about allergies. They could have talked about the special absorbent properties that Pampers has. They could have talked product. They didn't. They talked benefits. Shopper benefits.
Getting in-store media right is more than just having great creative. It comes from having a clear understanding of which shoppers you are targeting, their current and desired behavior, and what exactly is required to get them to change their behavior. If you'd like us to help you get more from your in-store media, check out how we work with clients to help them do this. Alternatively, check out www.shoppermarketingexperts.com to learn more about shopper marketing.