Stockouts are the bane of any shopping trip. They are also incredibly costly to brands and retailers alike. Yet time and again as I go around stores, it appears that as an industry we are failing in this fundamental task. Stockouts are everywhere. In a recent visit to a Tesco store in India, category after category had half-empty shelves. Why is it that some of the best brands and retailers in the world are still struggling with stockouts, and what can be done about it?
Shoppers can't buy what they can't see
It's quite simple. It's really hard to buy a product which isn't on the shelf! As a marketing team you have invested heavily in your consumer marketing campaign: created the perfect product formulation, communicated its benefits across TV and digital media. You've designed marvelous packaging which not only resonates perfectly with the brand but looks great on the shelf. The shopper is primed. They know what they are looking for. But when they reach the shelf, all that they see is this. 
What happens when there are stockouts on a brand?
What happens next? Well that depends on the shopper, the brand, the category and the channel. Some may switch brands immediately, costing the manufacturer dearly, and moving all of that marketing spend from the pile marked 'investment' to a pile marked 'cost'. They may switch to another pack size, which clearly could be good or bad depending if it is a trade up or not. They might not buy the category at all, potentially costing the retailer and the manufacturer. Weighing it all up, and out of stock is a high risk, and potentially high cost situation for both retailer and brand.
Promotions make stockouts worse
One of the really interesting points in all of this one of the major causes of stockouts is promotions. Promoting lines increases the chances of stockouts. Promoted lines are hard to forecast. Lines in dual locations in a store are hard to keep in stock, on shelf in both locations as inventory systems will only measure the total stock in the store. The brand could be in stock on the secondary display, but out of stock on shelf, but the systems says 'in stock' so no action is taken. In audits, we've found that up to 80% of out of stock lines in a store were on promotion at the time!
Not visible is the same as a stockout
Even when a brand is in stock, it is only really available if the shopper can find it. Take a look at the example below, taken from a Tesco store in India. While I was there I watched a shopper, with her husband and daughter, search for a specific Horlicks product. It was clearly an important purchase, as they searched quite hard. The husband reached for a number of products and showed them to his wife, but they were clearly the wrong variant. Eventually they walked away empty-handed (brand loss, retailer loss). But the product was there. Unfortunately, it was invisible to the shopper. Partly because it only had one facing, partly because it was on a low shelf. But mainly because the product above was promoted, and the promotional tag was blocking the Horlicks product from the shopper's line of sight. Yet again, promotions damage availability!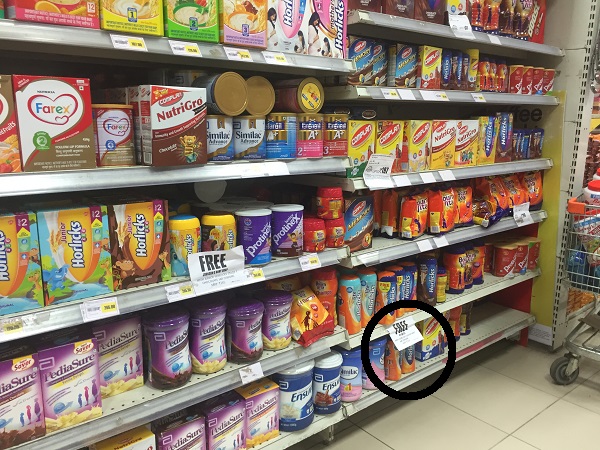 More focus on availability, less focus on promotions
Time and again in workshops, consumer marketers, shopper marketers, trade marketers and customer managers tell me that managing promotions takes a huge share of their time. There has been plenty written about the limits of the effectiveness of promotions. In our work we've found that typically 70% of promotions lose money for the manufacturers (as they typically fund them). But promotions also increase the chances of a stockout. And worse than this, all that time spent on promotions means that shopper marketers and trade marketers are not focusing on what is nearly always the most influential part of the shopper marketing mix: Availability.
Promotions are a way of life for those working in consumer goods companies, and I realize it is unlikely that will change soon. If, as brands and retailers we want to reduce sales lost to stockouts, it appears there are two things we can do. Focus on availability, and reduce the number of promotions.
For more on the challenges facing the consumer goods industry and how shopper marketing can help, check out The Shopper Marketing Revolution.